Devices¶
Device Setup¶
Connecting MIDI and Audio Devices¶
Zrythm will auto-connect to the devices specified in Engine and make these devices available in the track inputs (as below) and other places.
MIDI Bindings¶
Creating Bindings¶
MIDI device controls can be mapped to controls inside Zrythm (on controls that support it). After enabling a device in the preferences, a mapping can be created by right-clicking on eligible controls and selecting MIDI learn.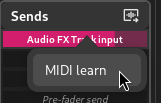 A window will show up asking you to press a key or move a knob on your MIDI device.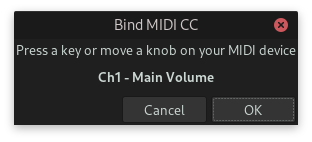 When the mapping is confirmed, the selected control can be controlled using the MIDI device.
Managing Bindings¶
Device mappings (bindings) can be found under the Bindings tab in the main panel.

Bindings can be deleted by right-clicking on a row and selecting Delete.