Generalidades#
Editing in the timeline is the most common workflow inside Zrythm. The timeline section consists of the tracklist on the left and the ruler/arranger on the right, along with a timeline-specific toolbar at the top.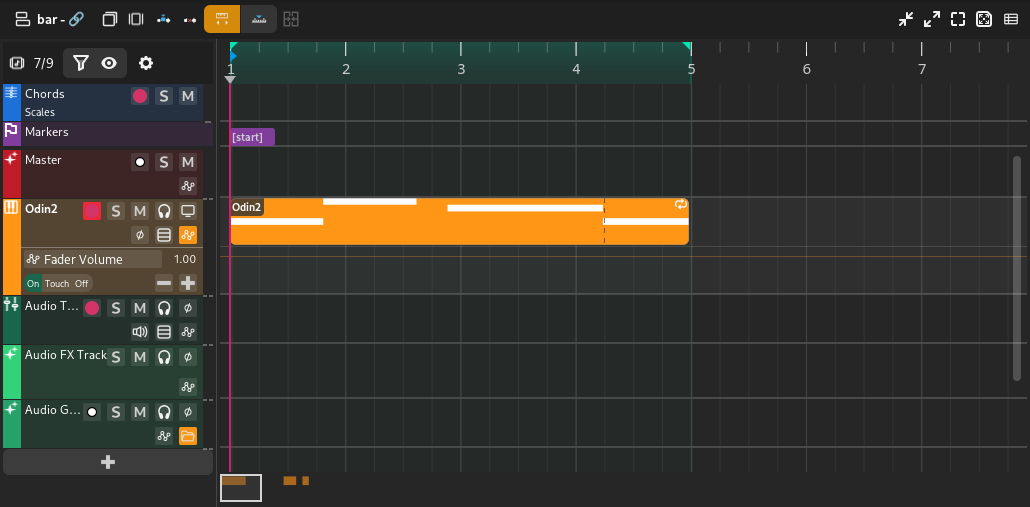 Lista de pistas#
La Lista de pistas contiene todas las pistas del proyecto. Se divide en la lista de pistas superior (anclada) y la lista de pistas inferior (principal).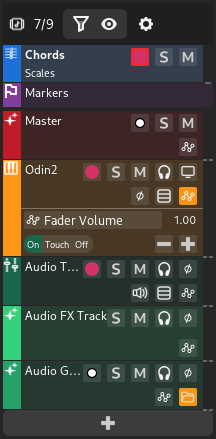 En la parte superior de la lista de pistas, se muestra el número de pistas visibles sobre el número total de pistas, así como un cuadro de búsqueda para buscar pistas por nombre (no operativo en este momento).
Puedes fijar pistas para que se queden a la parte superior. Esta opción resulta útil para progresiones de acordes y marcadores de manera que siempre puedas verlas.
El resto de la lista de pistas se menciona brevemente en Lista de pistas.
Para obtener más información detallada sobre el funcionamiento de las pistas, consulta la sección Pistas.
Minimapa#
El minimapa de la línea de tiempo es un pequeño cuadro que representa su área visible actual. Se puede mover y cambiar de tamaño para cambiar el área visible.

Más información sobre el resto de los elementos de la línea de tiempo en las siguientes secciones.