Panel de acordes#
Generalidades#
El pad de acordes contiene 12 pads (1 para cada tecla de un teclado de piano) que se pueden usar para hacer acordes. El pad de acordes se puede encontrar en el panel inferior.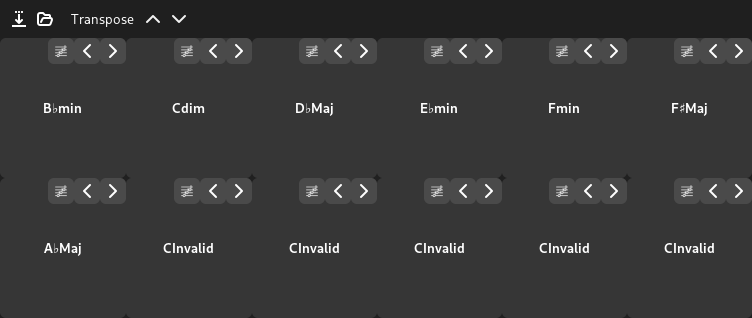 Estos 12 acordes están vinculados a los acordes del Chord Editor.
Preconfiguraciones#
Zrythm comes with pre-installed chord presets, and it also allows you to generate chord presets from scales, or even save your own.
Generating Chords from Scale#
Chords can be generated from a scale and a root note by clicking on the Load Preset button, then selecting a scale and a root note.

Trasponer#
Clicking on the up/down transpose buttons will transpose all chords by 1 semitone up or down.
Edición de acordes#
Selección de acordes#
Al pulsar en el botón del acorde se abrirá la ventana del selector de acordes, en la cual este se puede modificar.

At the moment, only the Chord Creator tab is functional. A chord can be created by selecting its root note, its type, its accent and its bass note.
Selecting In scale under Visibility will only show options that correspond to chords inside the currently active scale. This makes it easy to create chords that stay in the current scale.
Inversions#
Clicking on the left or right arrows will allow you to invert the chord. Each inversion towards the right moves the lowest note in the chord one octave higher, and each inversion towards the left moves the highest note in the chord one octave below.