Explorador de archivos#
El Explorador de Archivos hace que sea fácil navegar por las carpetas de tu computadora o de tus colecciones personalizadas.

Bookmarks#
The Bookmarks section contains a list of bookmarked directories. Double-clicking on a directory will show its contents in the file list below.
Standard Bookmarks#
Zrythm provides standard bookmarks for Home and Desktop, which correspond to the home and desktop directories of the current user.
Custom Bookmarks#
Custom bookmarks can be added by right-clicking on a directory in the file list and selecting Add Bookmark.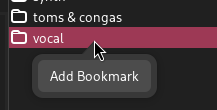 Similarly, custom bookmarks can be removed by right-clicking on the bookmark and selecting Delete.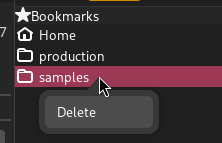 Filtrado#
Showing Unsupported Files#
By default, only supported files will be shown in the file list. To also show unsupported files, enable Show unsupported files in the file browser preferences.
Auditioning#
Audio and MIDI files can be auditioned by making use of the auditioning controls at the bottom of the file list.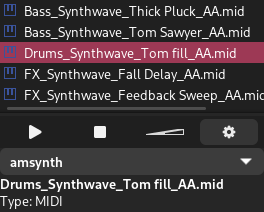 Play

Trigger playback of the selected file.

Stop

Stop playback of the selected file.

Volume

Control the loudness of the output audio.
Instrumento#
The selected instrument will be used for playing back MIDI files. In the above example, the Helm instrument is selected.
Autoplay#
Auto-play (automatically playing back the selected file when the selection changes) can be enabled in the preferences below.
Preferencias#
Clicking the cog icon will bring up the preferences for the file browser.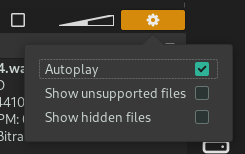 File Info#
Information, such as metadata, for the selected file is always shown at the bottom of the file panel.

Importar archivos#
Files are imported into the project by either double-clicking or dragging and dropping into the timeline.

Pop-up File Browser#
An additional file browser with similar functionalities is available by clicking the Popup File Browser button near the bottom right of the main window.