Operaciones habituales#
These operations are common to most editors.
Deshacer y rehacer#
La mayoría de las acciones en Zrythm se pueden deshacer, lo que significa que se puede volver al estado anterior a la acción realizada, o al estado que se deshizo.
Por ejemplo, si creas una nota MIDI y presionas Deshacer, la nota MIDI se elimina (Zrythm vuelve al estado en el que no existía la nota MIDI). Al presionar el botón Rehacer, se crea de nuevo la nota y puedes volver de Deshacer a Rehacer tantas veces como quieras.
También es posible deshacer y rehacer más de una acción al hacer clic en la flecha junto a los botones Deshacer y Rehacer.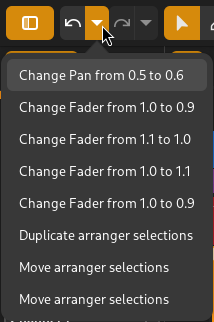 Las combinaciones de teclas para deshacer y rehacer son Control-z y :kbd:` Control-Shift-z`.
Advertencia
Si efectúa una operación de deshacer y luego realiza una acción nueva, se eliminará el historial de Rehacer.
Operaciones sobre objetos#
Selecciones#
Vaciar selección#
Borrar la selección actual (deshacer la selección de todos los objetos).
Seleccionar todo#
Selecciona todos los objetos en el editor actual (Control-a).
Bucle con selección#
Sitúa los marcadores de bucle alrededor de la selección (Control-l).
Escala#
The timeline arranger and each arranger in the editor include zooming functionality that can also be accessed from their corresponding toolbars.

Aumentar

Zoom in at the location of the playhead

Disminuir

Zoom out

Tamaño original

Zoom back to the default zoom level

Mejor ajuste

Zoom in or out as much as required to show all of the events in the arranger
Zooming in/out can also be conveniently performed by moving the cursor to the desired location and holding down Control while scrolling up with the mouse wheel to zoom in or scrolling down to zoom out.
Playhead Tracking#
Zrythm includes functionality for forcing the playhead to remain inside the visibile area during playback.

Scroll when Playhead Reaches Edge

Automatically scroll the visible area when the playhead moves outside it

Follow Playhead

Keep the visible area centered at the position of the playhead