Timeline Arranger#
The timeline arranger is the main area where the song is composed. It consists of a collection of events, such as regions, positioned against time. Some events (such as regions) will open separate windows for further editing when clicked.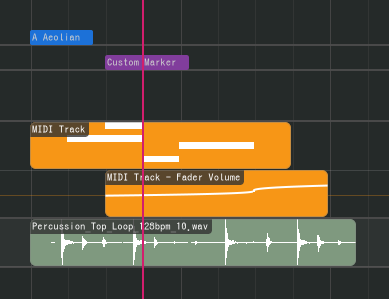 The timeline arranger is split into a top arranger that remains fixed on top and a bottom arranger below it. This way you can pin tracks you want to always be visible at the top.
Arranger Objects#
The following arranger objects can exist inside the timeline.
Regions#
Regions (or clips) are containers for events or data (such as MIDI notes and audio clips - see below) that can be edited in an editor. Regions can be repeated, like below.

The following types of regions exist.
Markers#
Markers are used to mark the start of a logical section inside the song, such as Chorus or Intro.

Markers appear inside the marker track.

There are two special markers that signify the start and end of the song that are used for exporting the song and cannot be deleted.
Editing Regions#
The following operations apply to regions.